Decathlon Sport - How to monitor prices
Decathlon is a global sporting goods retailer offering a wide range of products. Monitoring their webpage for low prices is beneficial as it helps you save money by identifying discounts and special offers. By staying vigilant, you can seize cost-saving opportunities and make informed purchases, maximizing the value of your shopping experience.
Fortunately, Decathlon can also talk directly to changedetection.io.
Changedetection.io will automatically detect Decathlon offering its special structured price data (called LD+JSON) and offer you to only follow that data, which means it cuts out all false changes. This is much better than monitoring the whole website.
 
In this example I'll show you how this works.
Step 1. Add the Decathlon product page URL as a new watch
We will add a product URL such as  https://www.decathlon.co.uk/p/mp/schwinn/schwinn-mummy-bmx-helmet/_/R-p-46ccf95d-6770-4865-8165-0026fe63f1c1?c=BLACK
Enter the URL and click Watch, then let the system fetch the page.

Step 2. Enable embedded price data following
Some pages offer the ability to only send just the price and stocking data, this way we don't need to care about selecting the region/part of the page of interest, it will give us the raw information about the product instead.
When you see "Embedded price data detected, follow only price data?" click "YES"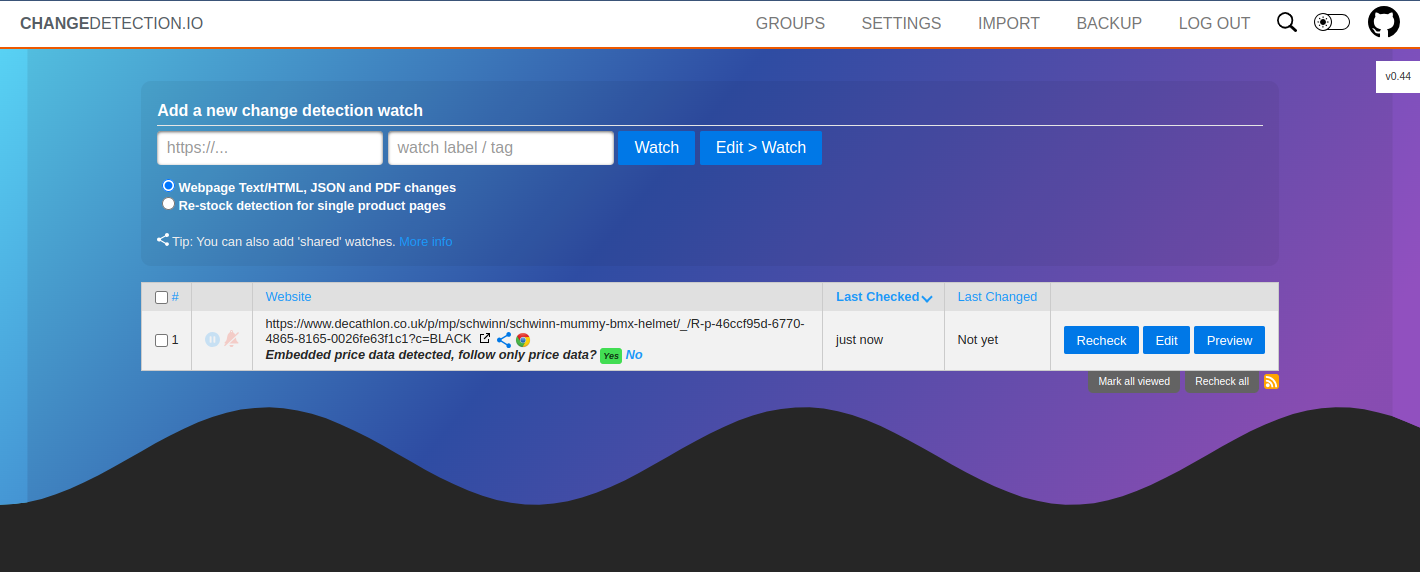 Step 3. When the product price or stock changes, examine what changed.
Clicking Diff on the watch list will bring you to the difference page.
This page shows you what has changed.
Because we are now monitoring the LD+JSON price data automatically, without needing to concern ourselves with the rest of the information on the page, we can now see that the price changed from 11.39 to 13.29